Nemo
Nemo has always been an outdoor cat. Because he has a lame leg, other cats in our neighborhood would attack him and try to run him off his own property. Then at the beginning of the summer of 06, our neighbor got several new cats and we think they just didn't get along with Nemo. Nemo went missing but we didn't worry because he would usually be gone for a day or two but would always come home. This time he has not returned and has not shown up at the SPCA. We hope he has found a home where he is well loved by everyone.

Who meows when he has to go outside?
September 11 had been the last time we saw Nemo.
We put up signs and asked for help finding him in our neighborhood newsletter.
We had given up hope of ever seeing him again.
Then on Oct 5, Nemo came home! He was skinny and weak but glad to see us.
Welcome home, Nemo!
Who loves to be outside? NEMO!!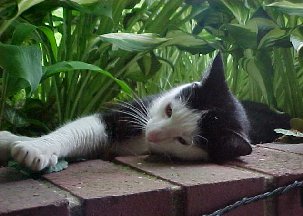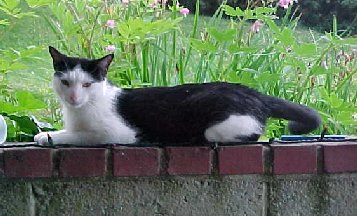 Nemo sleeps near Pompay.
Nemo plays with Pompay.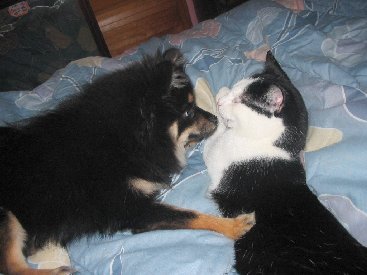 Who's been sleeping in my bed?
It is fun to play behind the curtains.
Nemo loves to lounge on the stair steps!
Nemo loves our bathroom sink!
Nemo's Life Story
The Kinder Kitty had been living under a bush near the school Library and came out to greet us when we set out our thermometer every day. In October, Mrs. Waninger helped Miss Eichinger take the Kinder Kitty and her 3 babies home to Miss Eichinger's house when the temperatures dropped below freezing at night. Mrs. Jones and her daughters, Heather and Laurel, picked up Nemo on Nov 8.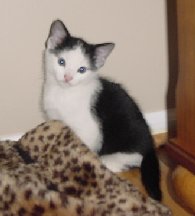 Miss Eichinger sent us this photo of Nemo while
we waited until he was old enough to leave his Mama.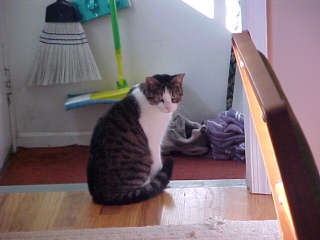 This is the Mama Kinder Kitty.
This is Dewey, one of Nemo's sisters.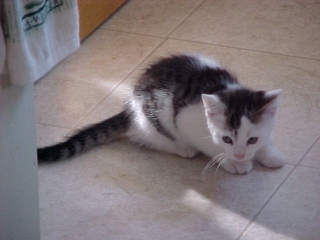 This is Pocono, Nemo's other sister.
Dewey and Pocono play all the time!
Miss Eichinger held Nemo to show us his foot.
Nemo has one toe on his back foot!
Laurel and Nemo get acquainted.
Nemo felt right at home at our house.
Shredding curtains is so much fun!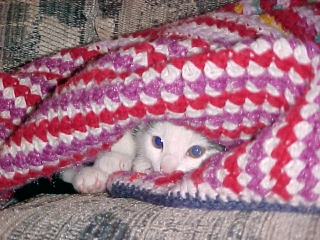 He loves to hide and play "Peek-a-Boo!"
Nemo licks his whiskers after eating dinner.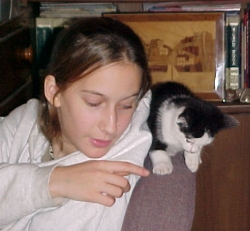 Heather loves to play with Nemo!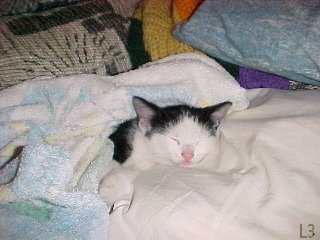 Playing all day sure wears out a little kitty!